In an effort to make navigating the system at several COOL participating local libraries easier, patrons can now download and use the new COOL app.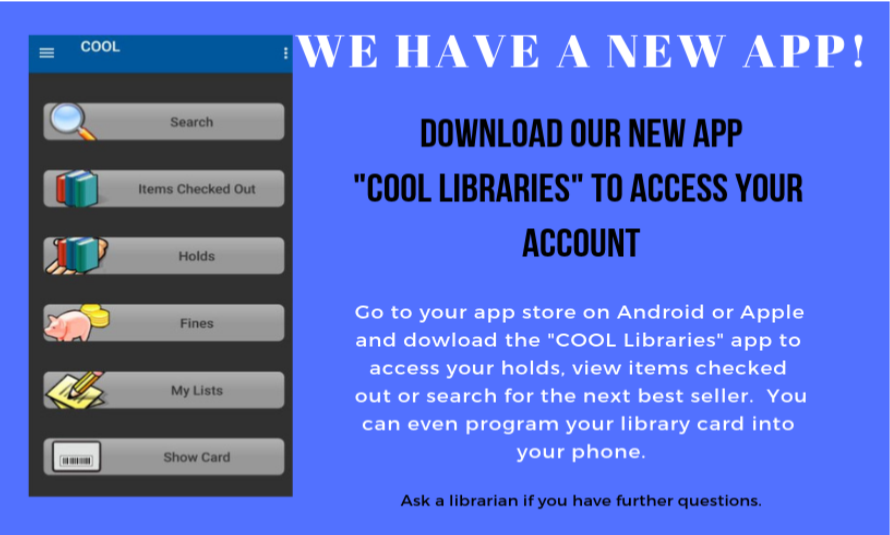 COOL or the Consortium of Ohio Libraries (COOL) is a system of inter-library loaning that gives patrons quick access to more than 400,000 items, including books (in both standard and Large Print); eBooks; Audio Books and downloads; magazines; music CD's; DVD's and Blu-Ray Discs. This system allows users to borrow items from other libraries without ever needing to leave the comfort of their local library.
Using COOL (either online or through the new APP) patrons can search the library catalog, and view items checked out, on hold, fines and lists. By updating your e-mail address in your account, you will now receive courtesy reminder e-mails three days before your items are due.
The other current COOL members are Arcanum Public Library, Blanchester Public Library, Cardington-Lincoln Public Library, Community Library (Sunbury), Galion Public Library, Germantown Public Library, J.R. Clarke Public Library, Marvin Memorial Public Library, Selover Public Library (Chesterville), Worch Memorial Public Library and Wornstaff Memorial Library.  Bucyrus