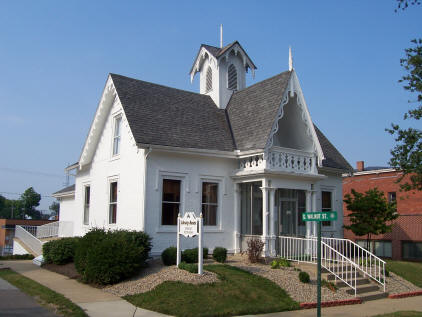 Genealogy Hours
The Genealogy Room is currently closed. 
---
Current Hours:
Wednesdays
10:30 AM to 3:00 PM
---
35 E. High Street (next to library)
The Morrow County Genealogical Society website can be found at:
http://www.morrowcountygenealogy.org

---
Ancestry Library Edition brings the world's most popular consumer online genealogy resource to your library. Here, you can unlock the story of you with sources like censuses, vital records, immigration records, family histories, military records, court and legal documents, directories, photos, maps, and more.
What is the difference between Ancestry and Ancestry Library Edition? 
In our library? GO THERE NOW (You must either be connected to our Wireless Internet, or using one of our available workstations to get the features of this service.)
Other popular Genealogical websites:
aaastateofplay.com Genealogy for Kids
Ancestry.com Offers free and paid resources.
Cyndi's List More than 93,000 genealogy links
FamilySearch.org Wealth of records from the Mormon church.
Genealogy Gateway More than 48,000 genealogy links.
GenealogySpot StartSpot's solution to genealogical research.
Genealogy Today Articles, queries and search tips.
Genealogy Toolbox Excellent & easy- to-use source.
RootsWeb Many free resources & mailing lists.
The Records Project Search genealogy records in 50 states.
USGenWeb Resources for states and counties.